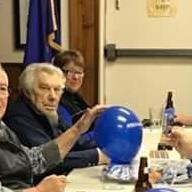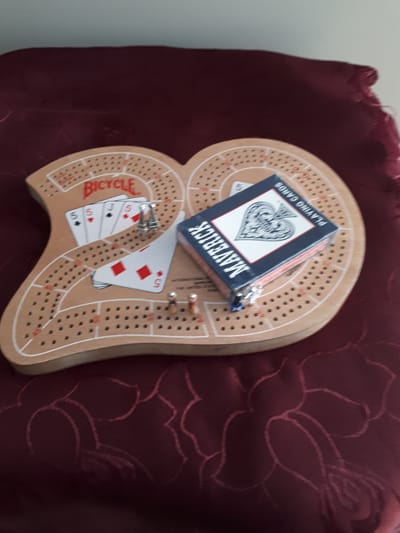 I have been crafting my entire life and cannot remember a time when I was not creating something for myself or someone else. In 2016, I left a job that was not fulfilling me. I took a few months and revisited all the choices I had made regarding my careers, and realized I needed to move into retirement, doing something that I loved.
At the same time my Dad, who was 94 years young, brought a cribbage peg to me and asked if it was something I could make. He liked the idea of custom pegs but did not like the fit and style of the one he had purchased. I tried many different styles over a year period. Dad played crib everyday for approximately 6 - 8 hours a day. I think anyone who walked in the door of the care centre he was at and played crib, played with him at some time or another. Some of my brothers, sisters and his grandchildren played in tournaments over the years with him. He taught some of the staff at the care centre to play. Dad took the time to teach each of his 6 children how to play the game along with his grandchildren and even great grandchildren.
Once I had made Dad, his first set (a fat pair with bumps on them so he could see and feel them) his friends saw them and then their friends. One day I decided that I would take a few to a market that I was going to with my Jewellery, Scarecrows, Santa's and Game board Markers and was absolutely stunned at how many people played crib. My Husband and I had a group that we played cards with when we were younger, but as we got older we stopped playing and never spoke with any one about it. As I developed my pegs, it seemed that all of a sudden, everyone we knew played crib or knew someone who did. I was and still am today stunned and amazed at the number of people playing this wonderful ancient game.
Dad always said to me " You listened to me once in you life and look what it has done for you"
Each and everyone of my cribbage pegs is made knowing Dad is watching me from above and would be so pleased that something he loved so much also gives me such pleasure.
MY SUCCESS IS KNOWING THAT I AM MAKING SOMEONE HAPPY WITH SOMETHING JUST A BIT DIFFERENT, WHILE THEY PLAY THE GAME THAT MY FATHER AND I LOVE SO MUCH.

PLEASE ENJOY YOUR PEGS AND MAY YOU WIN MANY GAMES WITH THEM.